"After beating my idols today, I might feel less intimidated warming up alongside them."
Around 7 PM, the drums of our entertainment crew echoed, signaling the beginning of the first qualification round in the CSI5* competition. 55 competitors challenged each other in a lightning-fast trial over obstacles measuring 1.50 meters high. In total, 19 riders completed the course without faults. However, in terms of speed, no one could match the 21-year-old Sienna Charles and her gelding Valkiry de Zance (Diamant de Semilly x Double Espoir). They started early in the trial and held onto their leading position throughout. They clinched the round almost 2 seconds ahead of the second place, Laura Kraut (USA), and nearly 3 seconds ahead of the third, Jeanne Sadran (FRA).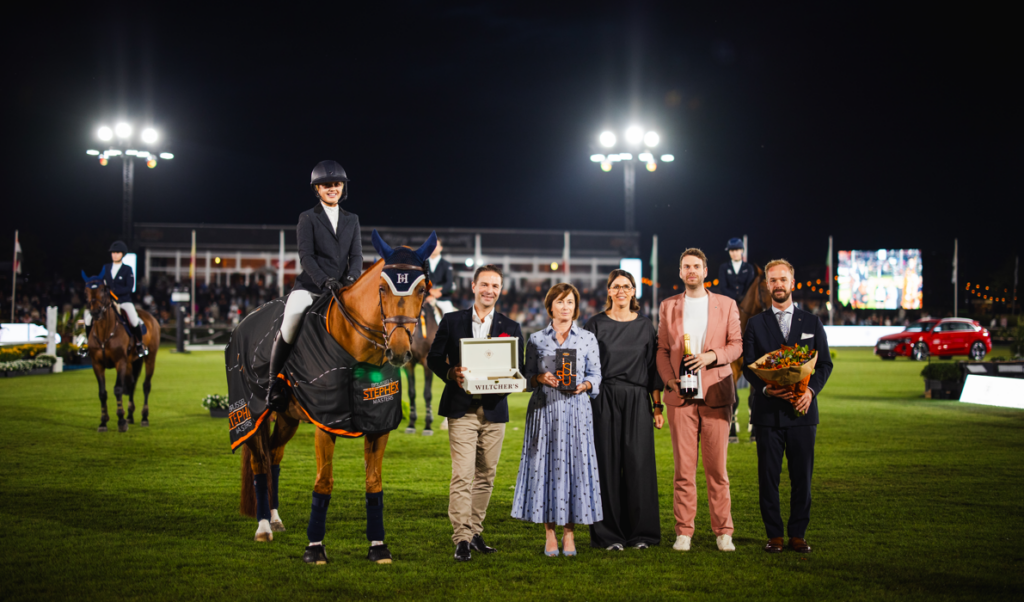 Sienna was over the moon with her victory: "During the course walk, I thought the course looked quite challenging. In the first half, I tried to keep it as tight as I could, taking as few strides as possible. In the second half, I rode more cautiously, adding an extra stride. After finishing without faults, I kept checking the starting list to see who was left to compete. And they were all outstanding riders! I'm so grateful for this opportunity. Earlier, I found myself walking the course alongside my idols, the riders I've admired since childhood. Competing against them is just surreal. After winning tonight, warming up with them might feel slightly less intimidating (laughs)."
Today's victory marked Sienna's second CSI5* win: "Last week, I clinched a win with Valkiry in Dublin. This is his first time back in the ring. Winning back-to-back just proves to how amazing a horse he is."
Sienna is part of a successful equestrian family. She's committed to diligently working in the family business and gradually climbing up the rankings: "My brother Harry gives me a lot of advice. I took his tips to heart today, and it paid off. My sister Scarlett is also competing at the Brussels Stephex Masters. We absolutely love it here. The presentation felt straight out of a movie!"
Click here for the full result.